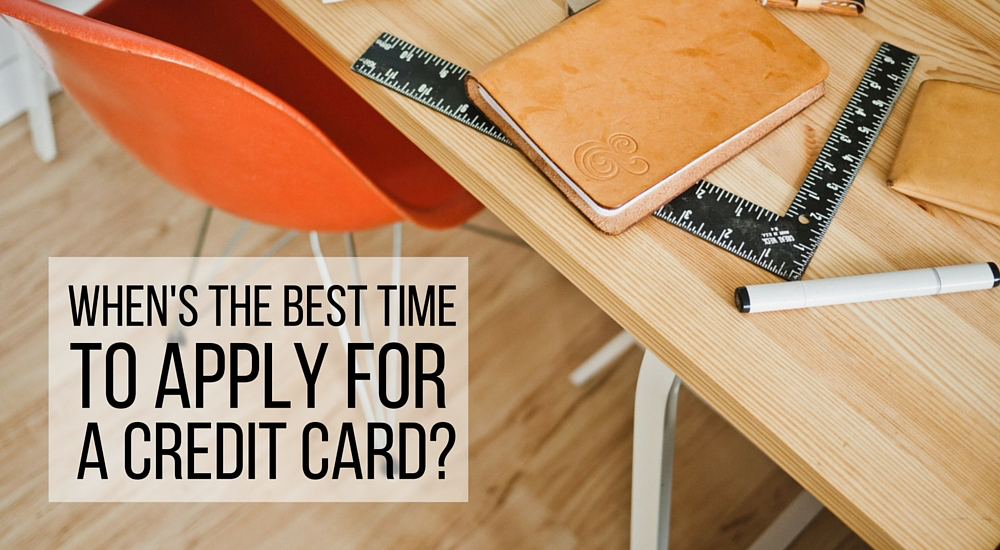 While some say there's no real "best time" to apply for a credit card, there are several life circumstances and credit card offers that can translate into the perfect opportunity to apply for a card. It's crucial to know the best time to apply for a new credit card so as not to rack up fees, or miss out on promotional deals upon signing up. Of course, there isn't a specific month or day that will point you to the best time to open a new account–but certain life events can signal the ideal moment for you to apply.
Here are some of the most optimal times to sign up for a credit card:
After researching the best card to suit your needs
Are you looking for the added benefits of miles or points? If you have any debt as a cardholder, you'll want to choose a card with a low interest rate. For those seeking the bonuses of rewards points or store discounts, finding the card that offers the best added benefits and return on spending is an element to consider.
Before making a major purchase
If you're seeking to finance something such as a car in the near future, you might benefit the most from first signing up for a credit card with 0% APR promotional financing. Many of these credit offers feature interest-free financing on new buys as well as balance transfers. Because most cards usually require a small balance fee—often around 3 percent—cardholders can take advantage of an offer like this and use the new purchase financing without having to pay the balance transfer fee.
Following improvement on your credit score
If you have a history of poor credit, you may have to boost your credit score before applying for a new card. One way to keep track of your account fluctuations and repair any credit losses is through credit restoration services such as GoCleanCredit. Knowing the best time to apply for a new credit card means ensuring your credit score has improved enough to open a new account.
Before quitting or losing your job
If you are deemed "currently employed" when signing up for a new card, you'll qualify for better terms on the credit card than if you were unemployed. However, this should be approached with caution for cardholders; incurring debt at such a delicate career point could be a slippery slope for your financial state. Make sure you are in the safe range of "employed" before applying for a new credit account.
After closing on a mortgage
Before applying for a mortgage, a cardholder should ensure that a clean credit history is in order–and after the mortgage is closed, it could be the best time to apply for a new credit card. Because a home mortgage is such a significant loan, it's important to make sure you have excellent credit before closing on a mortgage and not applying for a new credit card until after it's closed. That's why services like GoCleanCredit help you restore your credit in order to face life's various purchases with a clean credit score, thus labeling you as less of a risk to credit card issuers.
No matter what your situation, Go Clean Credit has a solution. We have many credit repair programs that are available to help you overcome your credit situation and place you back on the path to financial success. Real credit restoration is not a once size fits all model and we tailor your needs to the right program, but most people can start for just $99 per month.
We have fixed price programs that get you back on track in as little as 5 months, debt resolution solutions, programs geared toward people who have had recent short sales or foreclosures and many others. Help is just a free phone call away or you can fill out an appointment request. Contact Go Clean Credit to schedule a free consultation today.