Free Your Credit Chains!

Get Free Credit Repair App Cloud Access
Do-It-Yourself Credit Repair
Improve Your Credit SIMPLY, QUICKLY, and AFFORDABLY
Our CreditRepairByYou helps you restore your good credit with our proven step-by-step process, support team, and legal assistance.
AVERAGE OF 50-70 POINTS IMPROVEMENT
Proven Results
CreditRepairByMe incorporates over 15 years in the business of consumer credit protection representing thousands of hours of combined experience to give you the best results possible. As typically seen through our full service offering, clients have averaged 50-70 points of improvement (individual results may vary.)
CreditRepairByMe also views your credit report and answers to see if your situation warrants involving a consumer protection attorney. Our attorneys will typically take your case without any out of pocket cost to you. 
You will not find the level of expertise at this price ANYWHERE else.
SET UP IN AS LITTLE AS 15 MINUTES
Simple and Quick
CreditRepairByMe was developed with the common questions from tens of thousands of clients over the years, the software is designed to be easy to use and understand. It quickly steps you through importing your credit report, entering your information, answering a few questions, and then getting about the business of fixing your credit. As typically seen through our full service offering, clients have averaged 50-70 points of improvement (individual results may vary.) It takes as little as 15 minutes to print your first investigation letters!
We made it EASY by doing the hard work for you.
ACCESS TO OUR PROFESSIONAL SUPPORT
Expert Support
You are automatically provided with 30 days of FREE access to our professional credit staff to get you started. Professional help is available to guide you through the entire experience. Whether you just need to ask a quick question or need help clarifying a unique situation. 
If you require help beyond the initial 30 days, through our do-it-yourself credit repair software you can book an appointment with a credit professional for a very small consultation fee. 
Our staff is available to answer any questions about using the software for no charge as long as you own the product. The system is even smart enough to evaluate your personal situation for items that would be better handled by an experienced consumer protection attorney and connect you – the consult is free and in almost all cases their services would be offered at no out of pocket charge to you.
"You really saved my life! In less than 4 months, you helped me get back on my feet. I applied for my mortgage again and, to my surprise, I was able to get the financing I wanted."
"I wanted to show my appreciation to your company. I came in with a fresh bankruptcy that was really hurting my life. My credit score actually went up after just two months of signing up with your service. Your help and support really helped me get in the right direction.
Thank you Go Clean Credit!"
"I just wanted to let you know what a good and quick job I think you are doing. I have been checking my credit on a regular basis and have watched it jump over 150 points in 3 months! Thank you for your help."
SIGN UP NOW
What Can the App Do?
Create Customized Dispute Letters

Step By Step Guidance Through Process

Analyzes Credit Report

Build Positive Credit

Remove Collections

Remove Late Payments

Fix Inaccurate Balances

Correct Bankruptcy Information (Most Are Wrong)

Create Your Dispute Letters (Based On Your Information/Responses/Customization)

Track Progress

Import Credit Report

Data Security For Your Protection.  Cloud Base App – No Download Required.

So Much More…
WHAT YOU NEED
Requirements to Use the App
Internet Access
Internet Browser
Free Cloud Credit App Account (So You Can Login And Use)
IdentityIQ Credit Monitoring (Automates Credit Report Import)
Free Credit Repair App Screenshots
Dashboard For Quick Overview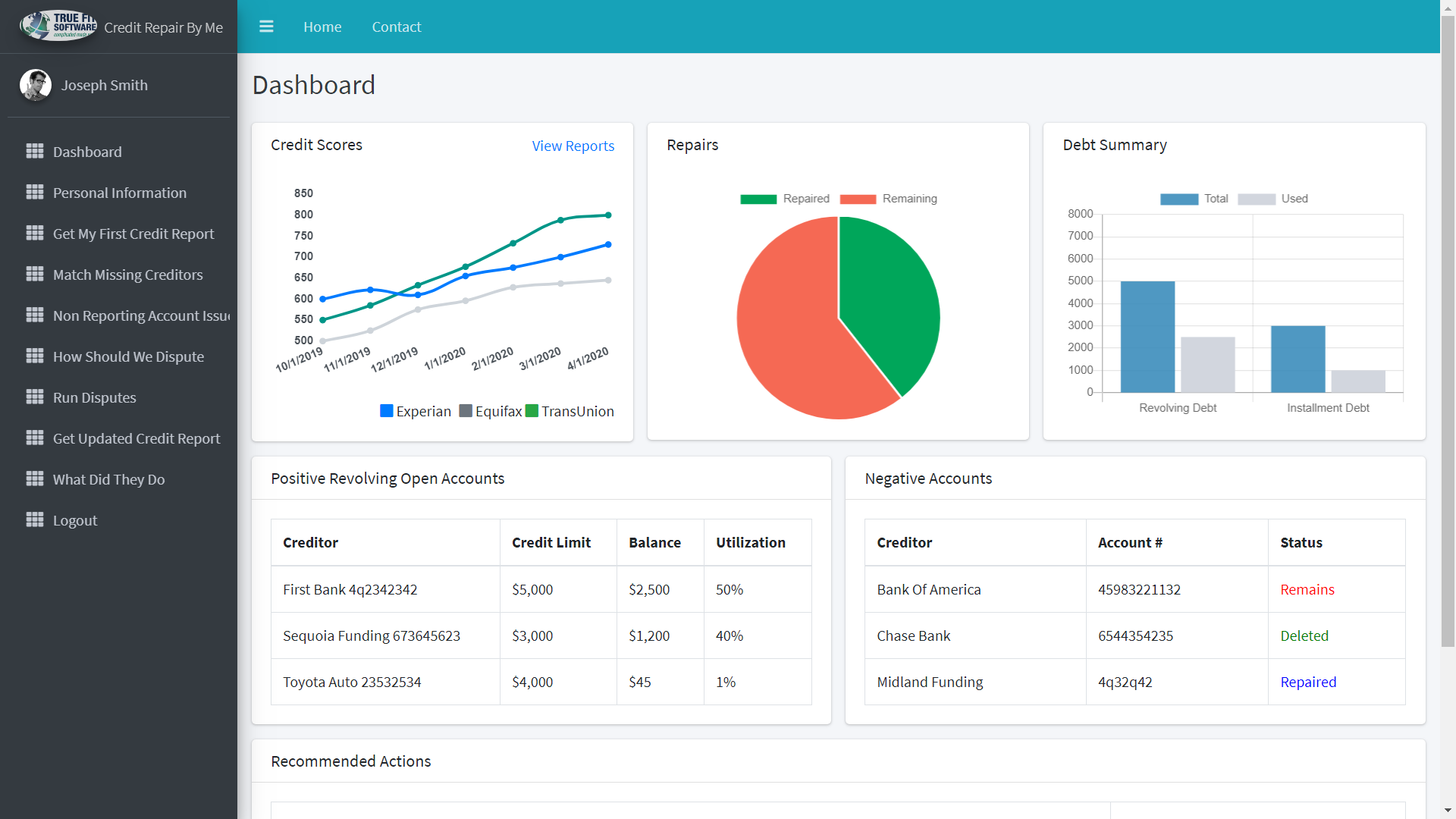 Personal Information Capture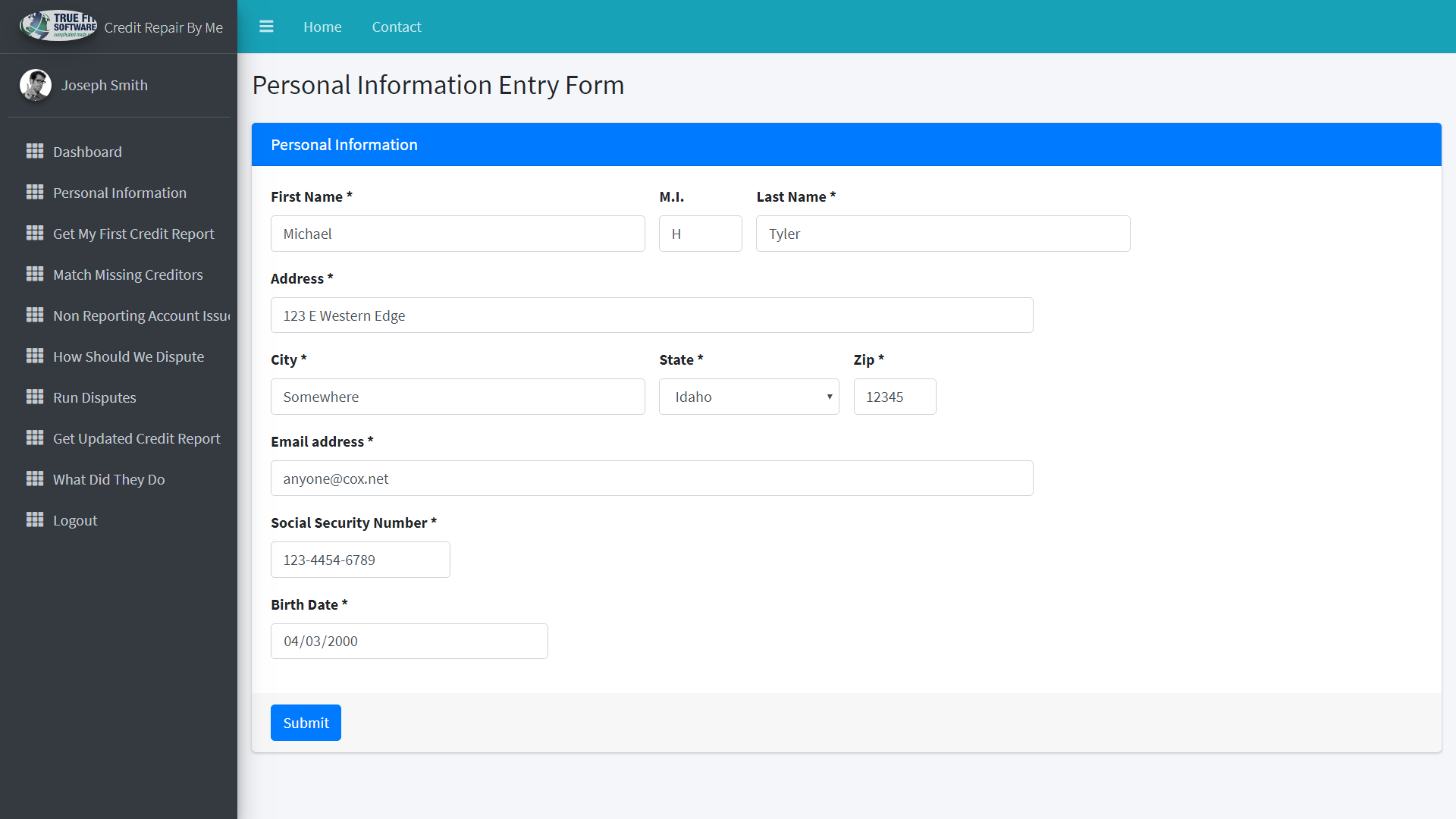 Detailed Review For Best Dispute Options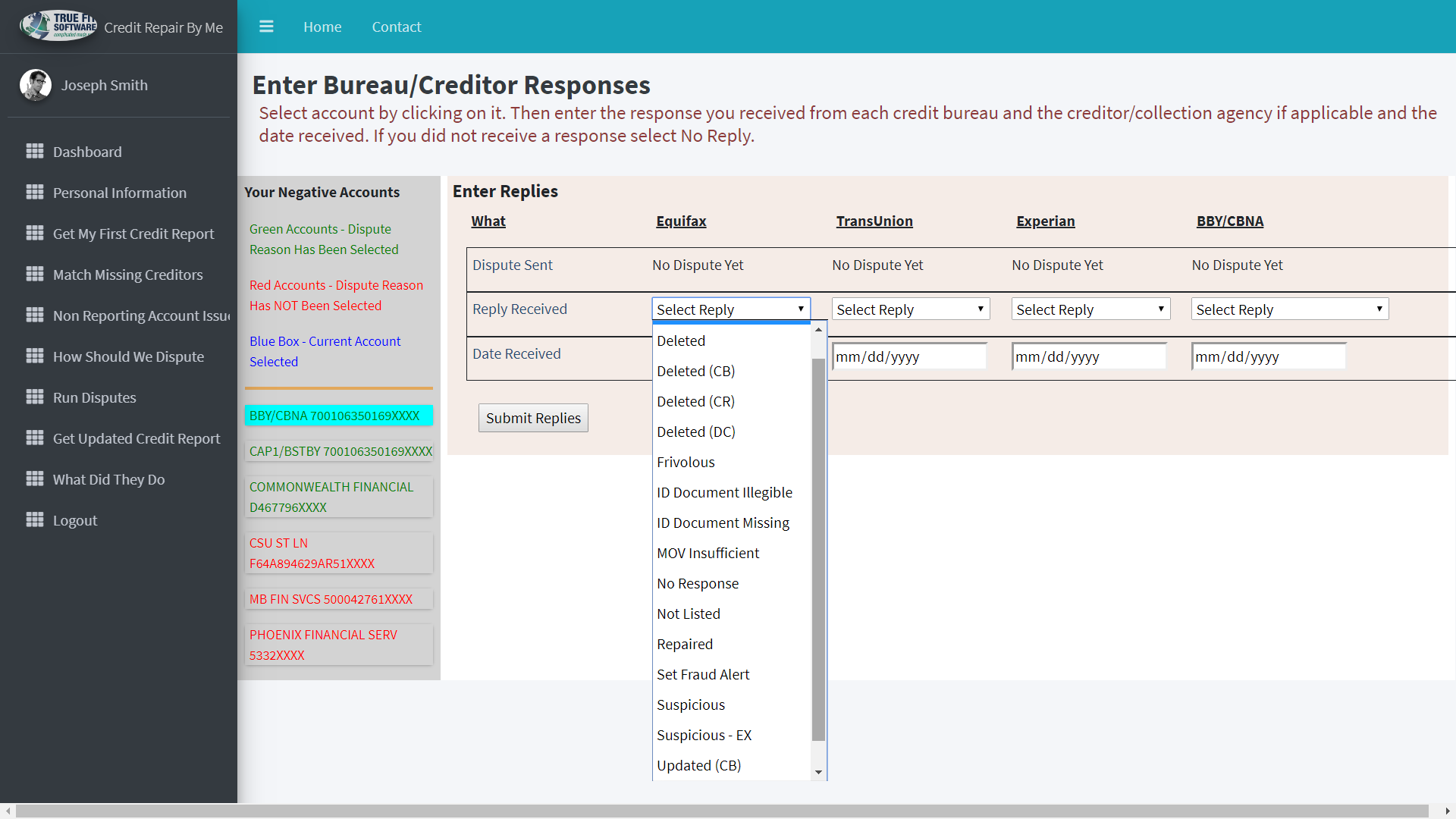 Detailed Reply Analysis For Next Steps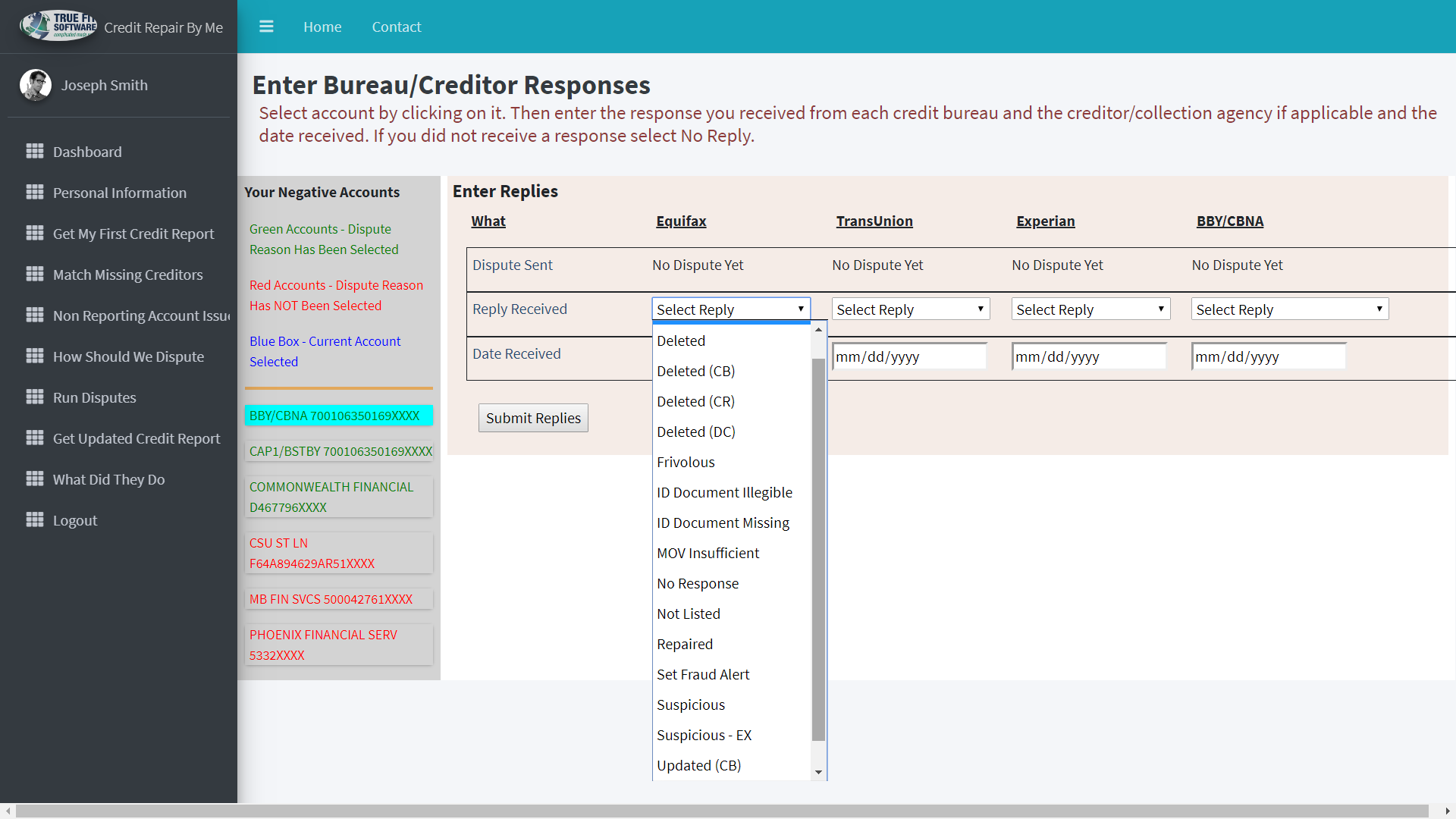 Is The App Easy To Use?
Yes. The app walks you through each step so you can import your credit report, find errors that you want to dispute, customize the dispute language if you wish, generate your dispute letters and track your progress through disputing, getting responses back and using them to create your next disputes if necessary.
How Do I Access The App?
Just click on the Get Free App Cloud Access button to create your account and away you go.
Is The App Really Free?
Yes – no strings attached.  Your privacy will be protected (see our privacy policy) and you will never pay a penny for the Credit App.
Will The App Really Help Me Fix My Credit?
Yes.  We have incorporated our over 15 years in the credit repair and consumer protection business in this credit app to allow you to utilize all of the tools available to repair your credit and get back on your feet.
How Long Will The Process Take?
Usually about four months.  After you sent your disputes out you need to give the credit bureaus and/or creditors 30 days to respond. After that you can see if they made the corrections and if not create your next disputes based on how they responded.  This back and forth takes about four months to complete.
Why Use The Credit App?
Saves you time and money and allows you to have access to the expertise built up over many years in credit repair and consumer protection.
Is My Information Secure?
Yes.  You are the only one to have access to your information and files and your connection is ALWAYS encrypted as are any documents stored.
How Do I Contact Support If Needed?
Support is available through email, chat or via a phone call.
What Are The System Requirements?
You will need access to the internet, an internet browser, an IdentityIQ account to automatically import your credit report and a Free Credit App Login.
What Is Your Privacy Policy?