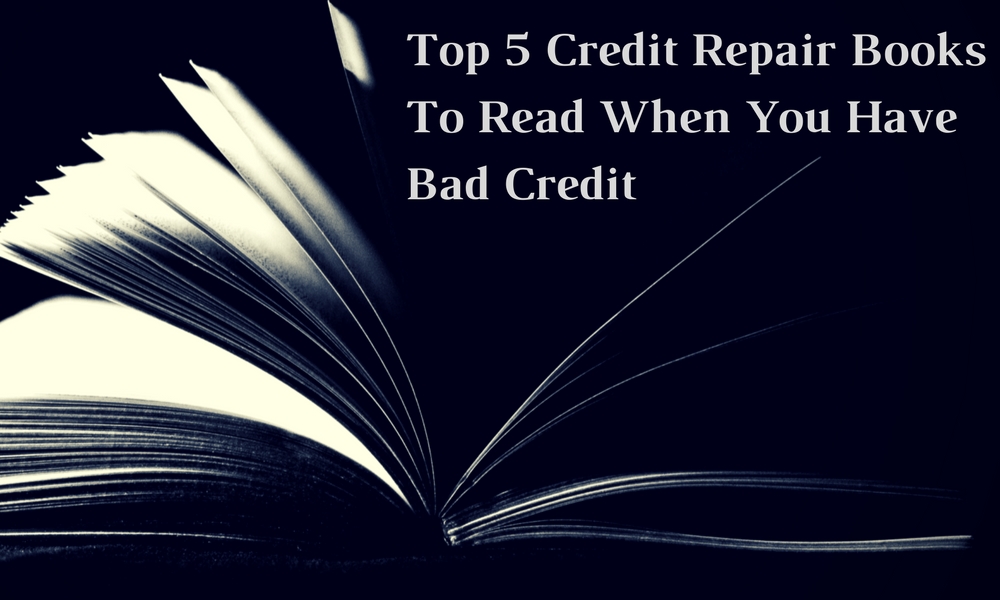 For those who still enjoy a good book, and also have bad credit, there is hope. Plenty of experts have put their pens to the page to help people improve their scores. If you're hoping for a lot of details and not quite finding all the information you're looking for online, check out our top picks for credit repair books.
Top 5 Credit Repair Books To Read When You Have Bad Credit
*The following are the synopses found on the backs of the books.
by Angel Love
"…Angel Love has helped thousands of people all over the country learn real strategies to raise their credit scores. This book is for anyone who wants to understand all aspects of the credit score, from the differences between the various scoring models, to how they're calculated. Save hundreds, if not thousands of dollars on the cost of credit by implementing these practical solutions to managing your personal finances today!
Learn why you have a different credit score at each of the 3 major credit reporting agencies!
Find out the one thing that prevents a high score (780) from being an 800!
Discover what consistently drops your score by 12-20 points each time you do it!
Figure out how to rebuild credit after a bankruptcy, or establish credit when you've never had it before!
Discover little-known information on accessing your report from the 4th credit bureau, as well as the other agency that collects widely reported information about you!
Learn where to find the money to pay off your credit card bills!
This book offers complete and concise information on raising your score, and avoiding the things that decrease your score. Learn to think like the credit scoring models and qualify for the most competitive interest rates on houses, cars, and insurance policies! Get this book today and be a part of that elite club with 800+ credit scores, and enjoy greater financial freedom!"
by Jerrold Mundis
"THE CLASSIC GUIDE, REVISED WITH UP-TO-THE-MINUTE INFORMATION
OUT OF THE RED
Do this month's bills pile up before you've paid last month's?
Do you regularly receive past-due notices?
Do you get letters threatening legal action if immediate payment is not made?
Do the total amounts of your revolving charge accounts keep rising?
INTO THE BLACK
Whether you are currently in debt or fear you're falling into debt, you are not alone. Sixty million Americans—from doctors to secretaries, from executives to the unemployed—face the same problem and live under the same daily stress. Based on the proven techniques of the national Debtors Anonymous program, here is the first complete, step-by-step guide to getting out of debt once and for all. You'll learn
how to recognize the warning signs of serious debt
how to negotiate with angry creditors, collection agencies, and the IRS
how to design a realistic and painless payback schedule
how to identify your spending blind spots
how to cope with the anxiety and daily pressures of owing money
plus the three cardinal rules for staying out of debt forever, and much more!
This book is neither sponsored nor endorsed by Debtors Anonymous. A recovered debtor, the author is intimately familiar with the success of the Debtors Anonymous program."
by Anna Newell Jones
"An inveterate spender, Anna Newell Jones was desperate to end the cycle of overspending, debt, and shame. On a whim, Anna decided to go on a Spending Fast – an idea she'd heard in passing but knew little about. Creating her own method to pay down her debt, she learned what worked and what didn't and wrote about it on her blog, AnThenWeSaved.com. Amazingly, Anna was able to eliminate all $23, 605.10 of her debt in a mere fifteen months – while making only $33,000 a year! Anna's journey has inspired people and shown them that they too can change the way they deal with their own money woes. The Spender's Guide To Debt-Free Living takes readers through a detailed step-by-step plan for their own Spending Fast, including:
Creating a personalized Debt-Free Life Pledge.
Mastering Needs-Only spending
Finding additional income sources and generating side gigs.
Learning techniques to handle difficult categories such as clothes, groceries, and social situations.
Dealing with slip-ups and recommitting to debt reduction.
Re-integrating spending into your life once you're out of debt, so that you stay out of debt.
Filled with do-it-yourself ideas, insight from experts, and tons of motivational tips and real-life practical advice, The Spender's Guide to Debt-Free Living proves that you don't have to win the lottery or get a new job to change your life."
by Tom Corson-Knowles
"I Believe Anyone Can Dramatically Raise Their Credit Score Using These Proven Credit Strategies
You could raise your credit score by 25 points or more overnight with just one of these credit tips.
In this book, you will discover:
Easy To Understand Action Steps Show You The Keys To A Better Credit Score
How To Instantly Improve Your Credit Score By 20 To 30 Points
How To Make Credit Repair Easy, Quick and Painless
How To Get a Free Credit Score Without Any Hassle or Hidden Fees
How To Get A Huge Discount On Your Mortgage Rates
How To Save As Much As $500 On Your Cell Phone Plan
Have The Ideal Number of Credit Cards To Maximize Your Credit Score
How To Get Better Rates On Car Insurance And Auto Loans"
by Steve Bucci
"Jump-start your credit score with this comprehensive credit repair guide
If you need to clean up your credit, this updated resource is full of information to help you get your credit reports looking great, pay down debt, and keep your credit clean. You'll find out how to deal with debt collectors, dispute inaccurate information in your credit reports, and set financial goals to stay on track.
Simple, proven steps – get an overview of working with debt collectors, filing for bankruptcy, and more
Rebuilding credit – explore options for starting or restarting credit, recovering from bankruptcy or identity theft, and much more
Big brother – find out how credit reporting works, how your spending is watched, and how to monitor your credit for optimal results
Credit management for life – discover how to create a realistic spending plan and protect your credit during major life changes
FICO facts – dive into the latest information on FICO and VantageScore credit scoring
Student loans 101 – find out how to best deal with student loans and avoid defaulting
Mortgage meltdown – get updated information on how to keep your home when foreclosure looms"
Have you read any of these credit repair books? Do you have another one that helped you with your credit score? Let us know! If you have any credit questions, call us today at 1-866-991-4885.
---
No matter what your situation, Go Clean Credit has a solution. We have many credit repair programs that are available to help you overcome your credit situation and place you back on the path to financial success. Real credit restoration is not a once size fits all model and we tailor your needs to the right program, but most people can start for just $99 per month.
We have fixed price programs that get you back on track in as little as 5 months, debt resolution solutions, programs geared toward people who have had recent short sales or foreclosures and many others. Help is just a free phone call away, or you can fill out an appointment request. Contact Go Clean Credit to schedule a free consultation today.