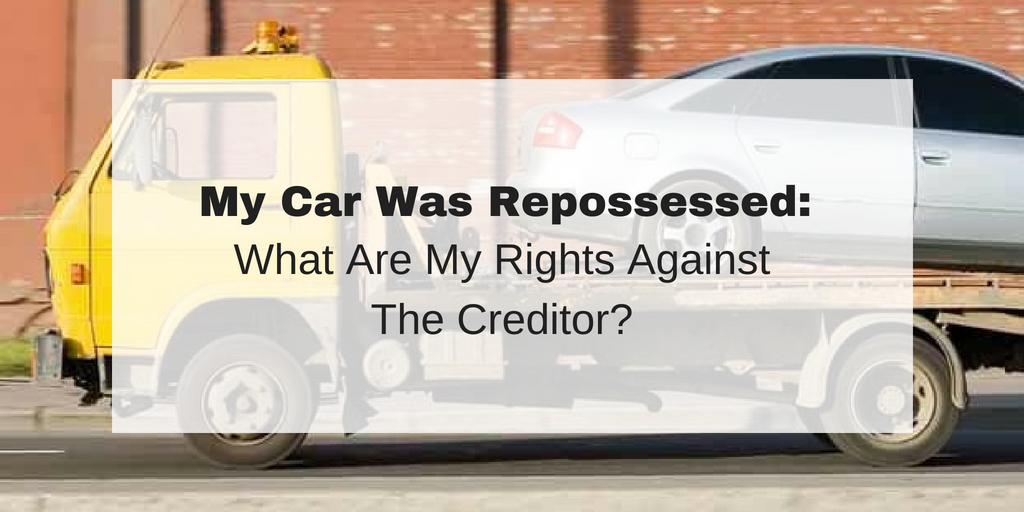 If your car has just been repossessed the first thing you should be asking yourself is, 'What are my rights against the creditor?'
Exploring the rules is undoubtedly the best way forward. It will give you the best chance of saving the most amount of money and potentially get your vehicle back.
But what are your rights? Here we take you through six you should know about.
1. Save your personal items
With your car taken by the creditors, you will certainly not want to be losing out financially with lost cell phones or anything similar. It is against the law for creditors to keep your personal property after it has been repossessed. Make sure to demand your items back as soon as possible, both by phone and in writing. Make sure to do that as quickly as possible before it is "misplaced".
2. Reinstate the contract
Many states allow consumers to reinstate the contract under certain circumstances. Reinstatement will mean you get the vehicle back by paying the back-due payments (not the full debt). However, do watch out for extra costs you might have to pay such as storage charges. Speed is essential on this one. In most of the states that allow reinstatement, you have just a few weeks after repossession to take this option.
3. Redeem the vehicle
You can reclaim your vehicle from creditors if you redeem it — paying off the full amount owed plus expenses. Under the law, the creditor must tell you the date of the car's sale and give you a telephone number. Like reinstatement, you should find out the cost of the vehicle as soon as possible and act fast. Once the car is sold to someone else, it belongs to them.
4. Haggle with the creditor
You have every right to negotiate with the creditor in an attempt to get your car back. You might be able to get your car back quickly if your car has little value on the market.
5. File for bankruptcy
Once your car has been repossessed you do have the option of getting it returned to you by filing for bankruptcy. However, you will need to this before the creditor sells it, so time is of the essence.
You will need to make payment arrangements under either chapter 7 or 13 bankruptcy if you want to keep the car long term.
If you take the chapter 7 option, you have to pay the creditor either the full remaining balance of the debt or the car's value — whichever is less. This will need to be paid in installments or all at once depending on your creditor.
If you take chapter 13 bankruptcy then there are several options available to you. However, we think the best way forward is to pay off the car loan in monthly installments.
These payments can be lower than your car loan payments and could help you out of financial difficulties.
6. Take legal action
If you feel like your car was taken illegally by the creditors then you can file a lawsuit to get the car returned and claim damages. However, you will need to hire an attorney, which could be expensive.
Don't panic if your car is repossessed by creditors. These six steps will put you on the right path to reclaiming your vehicle. Contact us today so we can dive into your specific situation and begin planning a way to help you escape this frustration.