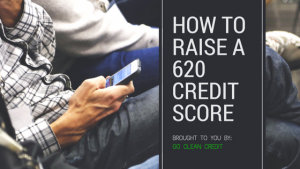 A good credit score is vital to success. Whether it's for a mortgage or a new credit card, having good credit is important for following your dreams.
Here's how to raise a 620 credit score:
Making Payments on Time
Payment history is one of the most important factors for FICO Scores and can account for up to 35% of your score. Make sure all your accounts on current on payments. Late payments will remain on a credit report for up to seven years.
Keeping Your Credit Balances Low
Your balance-to-limit ratio is calculated by dividing the total of your balances by the total of your credit limits. Ideally, you want to pay your credit card off each month, but if that's not possible be sure to keep your credit utilization rate around 30% or less.
A rule of thumb is to never have utilization rates of more than 30% on any one card or in total. People with the highest credit scores tend to have a utilization rate of less than 10 percent.
Check Your Credit Report Risk Factors
After requesting a copy of your credit scores, you'll see they come with a list of factors most likely to affect your score. These risk factors will help show you what changes you can make. Once you have that list, you can easily follow it to better your score.
Negotiate with Creditors
Many creditors are willing to negotiate if you are making an effort to pay your bills as soon as possible. Avoiding creditors and continuously missing payments will continue to have a negative impact on your score.
If the last time you've made a late payment was more than six months ago and you've been paying on time since then, the creditor may be open to remove the late payment, allowing your score to boost quickly.
Raising a credit score of 620 is possible with a plan. These steps could increase your score by 75 or more points in 30 days and qualify you for much better interest rates.
---
No matter what your situation, Go Clean Credit has a solution. We have many credit repair programs that are available to help you overcome your credit situation and place you back on the path to financial success. Real credit restoration is not a once size fits all model and we tailor your needs to the right program, but most people can start for just $99 per month.
We have fixed price programs that get you back on track in as little as 5 months, debt resolution solutions, programs geared toward people who have had recent short sales or foreclosures and many others. Help is just a free phone call away or you can fill out an appointment request. Contact Go Clean Credit to schedule a free consultation today.